Tactical Urbanism: Spectrum


Synchronous
Thursday, November 25 - 2021
Asynchronous

Nov 18 - Dec 2

Project Description

Register HERE
Symposium 9:00-1:00
Workshops 14:00-16:30
Event Location: hybrid

Check out our projects and start

collaborating

today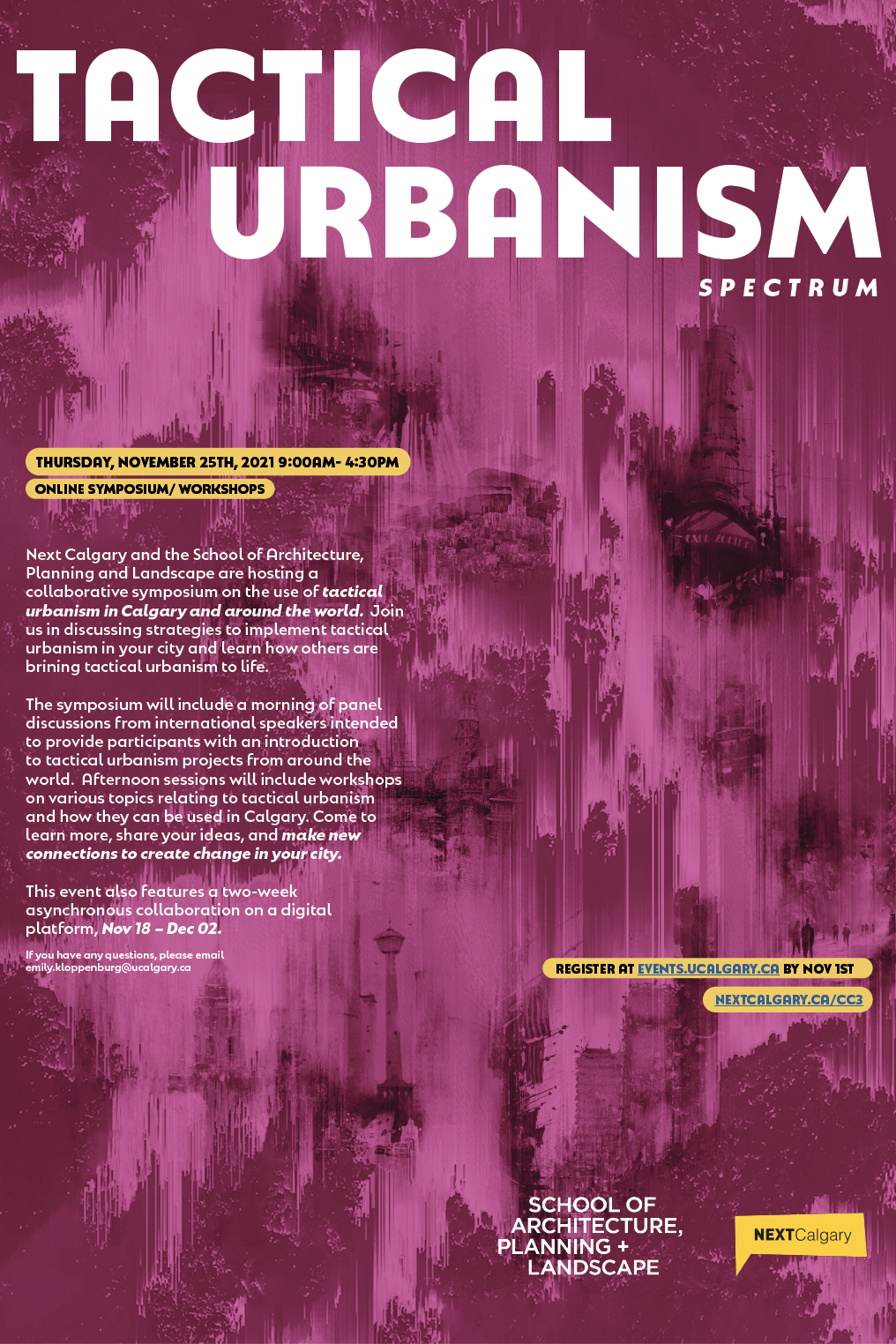 Program
Welcome, 09:00
. Emily Kloppenburg and Fabian Neuhaus, organizers
. John Brown, Dean SAPL at UofC



Session 1, 09:40


Breakout Room 01
. Paul Moscoso, Giulia Gualtieri and Viviana Cordero (Huasipichanga) - Ecuador
. Danielle Hoppe (Institute for Transportation and Development Policy) - Brazil
. Birte Kepp (urbanista) - Germany
. Sven Kohlschmidt (Simeri Laboratorio Urbano) - Italy
Breakout Room 02
. Ivan Osario-Avila - Canada
. Dimitri Gianoulis - Canada
. Eyal Santo - Israel
. Adriana Sansao - Brazil



Session 2, 11:10


Breakout Room 01
. Alice Lam (Good Neighbour) - Canada
. Srimal Ranasinghe, Lucia Blanco, Tripty Kaur & David Kowel (Sustainable Calgary) - Canada
. Laura Caraballo (Activate YYC) - Canada
. Jesi Carson & Cindy Nachareun ( Vancouver Design Nerds) - Canada
Breakout Room 02
. Tanja Glusac & Francesco Mancini - Australia
. Karen Begg - Canada
. Rikka Virtanen - Portugal
Summary, 12:30

Lunch, 1:00




Workshops, 14:00


. Activate downtwon
. Performance
. Roads and Streets
. Wishing Walls
. Social Media

Closing, 16:30
------
Next Calgary and the School of Architecture, Planning and Landscape are hosting a collaborative symposium on the use of tactical urbanism in Calgary and around the world. Join us in discussing strategies to mobilize tactical urbanism in your city and learn how others are bringing tactical urbanism to life.
The symposium will include a morning of panel discussions from international speakers providing participants with an introduction to tactical urbanism projects from around the world. Afternoon sessions will include workshops on various topics relating to tactical urbanism and how they are being and can be used right here in Calgary. Come to learn more, share your ideas, and make new connections to create change in your city.
This event also features a two-week asynchronous collaboration on a digital platform, Nov 18 – Dec 02. The synchronous event is taking place on Nov 25.
-----
Confirmed Speakers

. Laura Caraballo (Activate YYC) - Canada
. Jesi Carson & Cindy Nachareun ( Vancouver Design Nerds) - Canada
. Giulia Gualtieri and Viviana Cordero (Huasipichanga) - Ecuador
. Danielle Hoppe (Institute for Transportation and Development Policy) - Brazil
. Birte Kepp (urbanista) - Germany
. Sven Kohlschmidt (Simeri Laboratorio Urbano) - Italy
. Alice Lam (Good Neighbour) - Canada
. Srimal Ranasinghe, Lucia Blanco, Tripty Kaur & David Kowel (Sustainable Calgary) - Canada
. Tanja Glusac & Francesco Mancini - Australia
. Karen Begg - Canada
. Rikka Virtanen - Portugal
. Ivan Osario-Avila - Canada
. Dimitri Gianoulis - Canada
. Eyal Santo - Israel

-----
Symposum hosts:
. Emily Kloppenburg
. Joseli Macedo
. Fabian Neuhaus
-----

Workshop Themes

. Activate Downtown
. Performance
. Social Media Urbanism
. Street Space
. Wishing Walls